Pool Side Umbrellas for Hotels & Resorts
What is lounging pool side without an umbrella above and a cold drink in hand? For the ultimate pool side umbrellas for hotels & resorts, turn to American Holtzkraft. We make the market umbrellas, cabanas, daybeds, and other custom site furnishings your establishment needs to impress guests.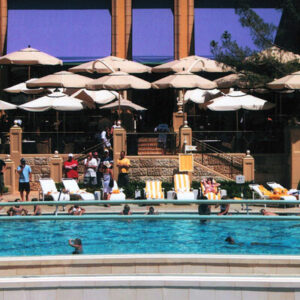 Mount Pleasant Mills, PA, is the home of American Holtzkraft, but our footprint is nationwide and beyond. We're a small business owned and operated by women, as we have been since our founding in 1985.
American Holtzkraft employs the following to outfit our clients with personalized and appropriate site furnishings successfully:
Locally grown Northern Ash hardwoods
Skill and expertise of the area's Pennsylvania Dutch craftspeople
Innovative designs that make our market umbrellas the most functional, wind-resilient, and long-lasting available.
Umbrellas at the side of pools are a given for hotels and resorts. Guests expect the protection and comfort that market umbrellas provide. From the sun's glare to harmful UV radiation and sudden rainstorms, protection from physical challenges allows your guests to remain comfortable during their sun-basking sessions.
The array of umbrella models and umbrella producers might make your poolside umbrella selection seem difficult; however, when you consider the essential features and the quality of American Holtzkraft products, we're confident in the result.
Size
The umbrellas you choose for hotel pool decks must be the appropriate size for the area. They need to be big enough for sufficient shade. To achieve this, we suggest measuring the space and adding two feet to account for the shade's movement as the sun changes from morning to evening.
Shape
The shape of the umbrella is also important. We offer "round" umbrellas, which are octagonal, rectangular, decagon, and square. Reflect the form of the pool, the tables, and the hotel's architectural features with the choice of umbrella shape.
Materials
American Holtzkraft offers market umbrellas made of your choice of pole – wooden or aluminum. The canopies are made of top-quality textiles that resist tearing, fading, staining, wear, and mildewing, and the hardware components are aluminum or solid brass and treated to resist corrosion even when used in marine environments.
Features
The features that you need in market umbrellas can be included in the design of your custom American Holtzkraft market umbrellas. For instance, we produce the most wind-resilient market umbrellas, and we offer thatch umbrellas, lighted models, and misting umbrellas – to name a few.
Quality poolside umbrellas will allow you to offer guests a host of benefits, including:
Protect from damaging and painful sunburns
Provide privacy and comfort for groups
Set the table for relaxation
Promote the company's brand through custom design
American Holtzkraft specializes in outdoor site furnishings. In addition to custom production, we also offer repair and refurbishment of products that have seen better days, including those made by our competition. Our commitment to clients is without comparison, and we provide total satisfaction. If mistakes occur, we make them right.
When you need the most appealing, functional, and durable pool side umbrellas for hotels & resorts, come to American Holtzkraft. Interested? Call us at (570) 539-8945 or email [email protected] to discuss how our products and services can benefit your guests.