Pool Umbrellas
If you operate a resort or hotel with a pool, well-suited market umbrellas are essential. American Holtzkraft deserves to be the source for these products due to the affordability, quality, and versatility of our offerings.
Introducing American Holtzkraft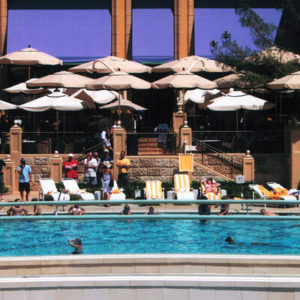 Hospitality businesses from all over the world come to American Holtzkraft for high-quality market umbrellas, cabanas, daybeds, and site furnishings. Since 1985, we have worked toward improving the industry with innovation in design, quality of materials, and mastery of craftsmanship. We are a female-owned company producing Made in America products that exemplify all that moniker should indicate.
The team at American Holtzkraft specializes in every step of creating the perfect-for-you collection of site furnishings. We design custom, high-quality products according to your preferences and our high standards, offer repair and refinishing services, and fulfill orders quickly and competently. If a problem arises, we make it right, always.
The American Holtzkraft Distinction
STRENGTH
American Holtzkraft market umbrellas are built with Northern Ash hardwoods. This type of wood is the hardest of the hardwoods that grow in North America, and it is the type of wood used to make baseball bats. As a result, the wooden market umbrellas we produce are long-lasting and strong.
The claim to fame of American Holtzkraft market umbrellas is wind resilience and strength in all conditions. We have a patent on a rotating canopy (Patent #5020557). By allowing the canopy to spin around the axis of the pole, the stressors of high winds are mitigated.
We combine this feature with dual venting to lessen the stress of winds even further.
MADE IN AMERICA
Being made in the United States should signify that a product is of the highest possible quality. We honor this tradition and take great pride in our products. Handcrafted by the local Pennsylvania Dutch population, our pieces are made to the highest of standards.
WEATHER AND ATMOSPHERE RESILIENCE
Commercial umbrellas are meant to be used outdoors, in settings where they'll be exposed to various weather conditions, including wind, precipitation, salt, pool chemicals, etc. American Holtzkraft uses fabrics that are hardy and resistant to the growth of mold and mildew, staining, fading, and the intrusion of UV rays.
DIVERSE, HIGH-QUALITY FABRIC CHOICES
American Holtzkraft fabric choices are incredibly diverse. You'll be able to choose the color and design you prefer, adding split panels, trims, valances, logos, and stitching types that work together to create a cohesive aesthetic for your brand.
CONTINUATION OF CUSTOMIZATION OPPORTUNITIES
Customizing the canopy of your market umbrella isn't the only opportunity to personalize your purchase. We offer wooden and aluminum pole options, with several wood types available. The finish on the pole can be personalized as well as the size and shape of your market umbrella.
We also produce custom site furnishings built to order based upon your specifications.
FINEST MATERIAL COMPONENTS
American Holtzkraft market umbrellas are made of the finest materials available. Stainless steel, marine grade sealants, aluminum flush pole guards, solid brass hardware, and multi-laminated Northern Ash pieces make our market umbrellas' quality even greater than the sum of the parts.
Pool umbrellas from American Holtzkraft will check every box regarding quality, price, longevity, functionality, and aesthetic. Let us help you design the right pieces for your business by calling (570) 539-8945. To familiarize yourself with the possibilities, check out our online catalog.