Rectangular Outdoor Market Umbrellas
Whether you need rectangular, square, round (octagonal), or decagonal outdoor market umbrellas, rely on American Holtzkraft to create an ideal package of site furnishings for your establishment. 
Shading the Competition Since 1985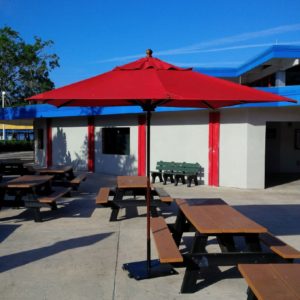 For over three decades, American Holtzkraft has outperformed competing market umbrella manufacturers, producing pieces with better quality, greater customization potential, and compelling, innovative opportunities. 
In addition to manufacturing furnishings, we provide comprehensive customer service, ensuring that our clients receive precisely what they need.
Configurations for Ideal Protection
Restaurants, outdoor venues, theme parks, and other hospitality venues with outdoor guest areas need to include appropriately designed market umbrellas to welcome guests visually and with appropriate protection from sun and precipitation. 
To ensure that your market umbrellas work in the areas identified, choose the type of table setting or lounge area the piece will cover first. Then, mirror the shape with the shape of the umbrella and add two extra feet to the diameter of the market umbrella to provide full shade even as it moves with the sun through the day.
For group events with a rectangular table, choose a rectangular market umbrella that will protect guests from the sun's glare, UV rays, and heat.
Maintenance Demands for Long-Term Use
Investing in hospitality furniture shouldn't involve one-season-and-done expectations, nor should the furniture require constant scrubbing and time-consuming care. Hospitality employees have limited time, and as much of that time as possible should be focused on meeting guests' needs.
American Holtzkraft market umbrellas are designed to be easily maintained and durable. They're impervious to mold and mildewing, staining, fading, tearing, and other outdoor exposure and use hazards. Many of our models can be easily repaired in the field, and the materials used to create them are chosen because they're weather and wear-resistant.                                                                                                                                                             
Canopy Designs for Impressive Results
Commercial market umbrellas from American Holtzkraft are made with canopies of durable fabrics, thread, and design. Not only do we create market umbrellas that last for years and years, but we also offer incredible customization opportunities with the canopy.
In addition to shape and size, you can choose the pattern, color, texture, pleating, valances, stitching, and logo placement of the canopy, creating your own branding opportunity. We even offer exclusive design options if you want to be our only client with your canopy creation.
The Quality Provided by American Holtzkraft
An incredible canopy design needs to be supported and held in place by quality materials. Customers can choose hardwood or aluminum poles; we use solid brass hardware. While we use primarily Northern Ash hardwoods, we offer other wood options, including Plantation-Grown Teak and Western Cedar.
The custom, hand-made commercial umbrellas, cabanas, daybeds, and other site furnishings we create at American Holtzkraft are known worldwide. Six patents attest to our innovative designs, particularly the wind-resilient market umbrella. This model features a fully rotating and dual-vented canopy that withstands winds up to 74.5 mph in wind tunnel testing.
Custom outdoor market umbrellas from American Holtzkraft may be rectangular, square, round, or decagon, but they will always be of the best quality. We call on you to check out the options in our online catalog and then reach out with a phone call to (570) 539-8945 or an email to [email protected].