Rectangular Patio Umbrellas
Event spaces that include ample table seating will require rectangular patio umbrellas that cover the whole area. American Holtzkraft serves the needs of the entire hospitality industry – from resorts to restaurants, country clubs, theme parks, and more. We're happy to oblige any need for market umbrellas, cabanas, daybeds, or other site furnishings.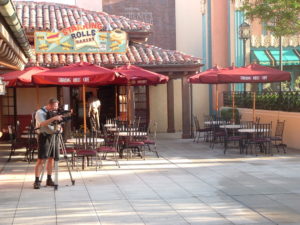 The difference in quality and design between American Holtzkraft's market umbrellas and our competitors' is immediately apparent. Regardless of your commercial outdoor site furnishing needs, we would be delighted to provide them.
Designs to Welcome Guests
Venues with outdoor function space will require small and large group seating. This seating must include market umbrellas large enough to shade the entirety of the area, so each umbrella should have an extra two feet of clearance on each side. Rectangular umbrellas will work well with large round or rectangular tables or seating layouts.
Prioritize Quality Over Price
To ensure that your market umbrellas last season after season, prioritize quality. If you put price first, you'll be replacing the umbrella annually, perhaps more often than that. American Holtzkraft puts quality and safety above all else. We stand behind all sales, and when mistakes occur, as seldom as that may be, we always make it right.
The best design and the finest materials come together with the dedication to precision in our work, and the quality of American Holtzkraft market umbrellas reflects this fact.
Choose Maintenance-Friendly Products
Hospitality businesses have plenty to do and significant expenses. Taking care of market umbrellas shouldn't add to the list of tasks employees need to do. American Holtzkraft canopies are resistant to fading, durable, and wind-resilient, and the poles are majestic in their durability and strength. Quality is also key to the connecting pieces that fit the canopy to the pole and allow for movement and positioning.
Shop with American Holtzkraft
Since 1985, American Holtzkraft has provided the finest market umbrellas available. With access to majestic Northern Ash hardwood, precise Pennsylvania Dutch workmanship, and ingenious designs, we produce the best site furnishings on the market, and we continue to strive for improvement and perfection with every sale.
American Holtzkraft products are handmade in the United States with patented designs and fine materials for long-lived and aesthetically remarkable quality. We hold six distinct patents on mechanisms related to our umbrellas, and the combination of rotation and dual venting create a wind-resilient umbrella.
As further evidence of our design and production quality, we've been honored with ADEX, or Awards for Design Excellence, multiple times.
The Canopy Fabric
The canopy of market umbrellas must be made from durable, resilient fabric. Exposure to the elements shouldn't cause the umbrellas to look ragged and old; the material should remain in beautiful condition despite age. The outdoor conditions also dictate that the fabric should be resistant to the growth of mold and mildew and fading.
We at American Holtzkraft offer hundreds of material options with different textures, designs, and colors, and we offer several choices of pleating and stitching. All of the customization options are of the highest possible quality.
Rectangular patio umbrellas from American Holtzkraft elevate celebrations, gatherings, and other events held outdoors. Our online catalog awaits your perusal, and our team awaits your call for an order or questions: (570) 539-8945.