Resort Pool Umbrellas
Does your resort space need to update its pool umbrellas? Look to American Holtzkraft for incredible quality and personalization. Our catalog includes a broad range of furnishings for hospitality venues, including daybeds, cabanas, etc.
About American Holtzkraft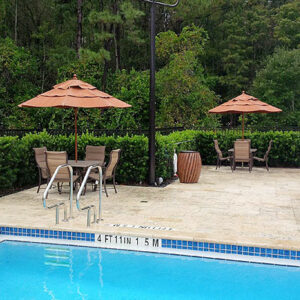 Mount Pleasant Mills, PA, is home to American Holtzkraft, a women-owned small business. We began producing innovative market umbrellas in 1985, and nearly forty years later, we continue to offer superior products, all made in the United States. We leverage ingenious designs, fine materials, and the most capable hands for hand-crafted excellence.
Hospitality venues that we regularly serve include all of the following business types:
Theme parks
Water parks
Golf resorts
Beach resorts
Restaurants
Hotels
Event spaces
Kiosks
Pop-up shops
Cruise ships
etc.
American Holtzkraft Market Umbrellas
The wind-resilient model is one of the market umbrellas for which we are most well known. The umbrella canopy has dual vents and can fully rotate around the axis 360°. Mitigating pressure on the canopy from the winds allows this model to avoid damage up to 74 ½ mph winds, and we can provide video evidence of this hardiness.
At American Holzkraft, we hold six patents, allowing us to deliver features that no other site-furnishing company can. Our unique patents include those for a thatch umbrella, fan umbrella, misting umbrella, two-piece self-locking pole stand, rotating canopy umbrella, and automatic opening umbrella.
American Holtzkraft umbrella features:
Rotating canopy finial – the tallest point of a market umbrella is the finial. The finials of our market umbrellas can be either aluminum or wooden, depending on customer choice. Other options are also available.
Reinforced leading edge – Twice-folded and triple-stitched, the hem will resist fraying, and the fabric and thread will resist damage from UV rays.
Air vents – single or double venting available – are used to let the wind pressure go through the canopy instead of against it, mitigating the damaging force.
Reinforced stress points – strong canopy construction comes from double-layered fabric and double-stitching.
Hubs (top and bottom) – aluminum market umbrellas feature solid hubs composed of machined aluminum, and wooden market umbrellas have multi-laminated wood hubs with stainless steel screws for reinforcement.
Pin and chain – adjustments to the canopy fabric are made with a standard pin and chain design. They're composed of solid brass or stainless steel for maximized durability and smooth functionality.
Pole options – aluminum versus wooden – The strength of the pole is integral to the strength of the market umbrella itself. Our wood poles are primarily made of Northern Ash, the timber used for baseball bats, but we offer other wood options like Western Cedar and Plantation-Grown Teak. The wood is slow-dried with a kiln and sealed several times with marine-grade glue and your choice of finish.
Market umbrella poles – available finishes – Aluminum poles are available with aluminum-brush finishes or powder coat finishes. Wooden poles may be teak, natural mahogany, Stonehenge gray, white wash, black or white enamel.
Four lift mechanisms – traditional manual lift, single pulley, double pulley, or automatic opening device.
When you need resort pool umbrellas, choosing any provider other than American Holtzkraft would be foolish. We supply the absolute best available. Click here if you'd like to check out our previous projects, or you may reach out to our empowered and experienced staff by dialing (570) 539-8945 or emailing [email protected] to learn more about our catalog or to place an order.