Resort Style Market Umbrellas
Choose American Holtzkraft for resort-style market umbrellas that are genuinely worthy of your venue's guests. We provide companies all over the globe with high-quality custom site furnishings built with durability, functionality, and visual appeal in mind.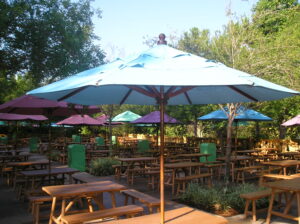 Accomplishing our goal of creating ideal umbrellas, daybeds, cabanas, and site furnishings rests on our application of ingenious design, craftsmanship, fine materials, and customer-driven support.
Established in 1985, American Holtzkraft has designed and produced the best commercial umbrellas, cabanas, daybeds, and other site furnishings for nearly four decades. We have several patents indicative of our innovative approach to design. These include:
Thatch Umbrella – Patent #6802325
Fan Umbrella – Patent #6691721
Misting Umbrella – Patent #6682000
Two-piece self-locking pole stand – Patent # 5337989
Rotating Canopy Umbrella – Patent #5020557
Automatic Opening Umbrella – Patent #4928718
As you define the parameters of the perfect market umbrella for your company's needs, our staff awaits the opportunity to give you our two cents. We know the questions to ask and the best process to follow to make the best choices. Maximize your space and the branding potential of the investment.
Collaborate with our team instead of potentially buying a set of market umbrellas that won't work well within the space. Consider the best size and shape market umbrella for your venue's exterior decks, greens, sea sides, and other hospitality spaces.
American Holtzkraft provides site furnishings that you can rely on to perform year after year. Even with regular use and exposure to various weather conditions, our site furnishings will function well and make the best impression on guests. All of the material choices we provide resist damage from exposure, tearing, fading, staining, and even mildewing.
Holding up this quality canopy will be a pole made of either wood or aluminum. While we primarily use Northern Ash, the hardest of the North American hardwoods, for our wooden umbrellas, we also offer Plantation-Grown Teak and Western Cedar. We slow dry these timber poles and laminate them with several layers of marine-grade sealant in your choice of shade. Even the tempered aluminum poles we provide can be either brushed or powdered aluminum.
Custom options continue to the canopy when you order from American Holtzkraft. Select the colors, design, texture, pleating, panels, trim, stitching, and logo design and placement for the canopy. Exclusive use rights for your custom design are available; ask our customer service team.
While you customize your market umbrella design, we'll remember safety comes first. We'll ensure that your product will be as safe as possible, and consult with us to ensure that the base system chosen is the one best suited to the environment where your umbrellas will be used.
Additional American Holtzkraft Services
Repair and refurbishment – Bring site furnishings that we create or those made by our competition when they appear worn. We will inspect, repair, refurbish, and re-canopy as required to give these pieces a second life.
SAM evaluations – Safety, Aesthetic, and Maintenance elements can be checked, problems identified, and remediation applied with this service, but it's available to Florida clients only.
For high-end resort-style market umbrellas, turn to American Holtzkraft. Dig a bit deeper by browsing our online catalog or the project gallery. If you're already convinced, call us at 570-539-8945 or email [email protected] for guidance or to place an order.