Resort Style Pool Umbrellas
Resort-style pool umbrellas from American Holtzkraft provide the perfect shade for your guests. Not only do you need to include full shading to protect guests from UV rays, but you must also consider the aesthetic quality and the brand's custom potential. The design we create will stand out in your guests' minds, elevating the entire area's aesthetic.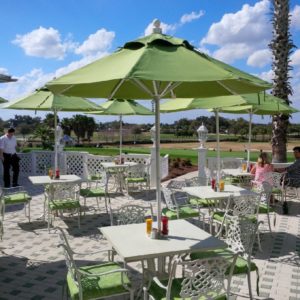 American Holtzkraft market umbrellas are made of canopies that will fully protect from sun and light rain hazards. We also incorporate customization options, professional design, and even the inclusion of your logo when desired.
Choose American Holtzkraft for Quality and Customization
American Holtzkraft functions as the standard among market umbrella providers. Since 1985, we have incorporated quality materials, expert craftsmanship, and ingenious design to produce our wares for nearly forty years. 
The home of American Holtzkraft lies in Mount Pleasant Mills, PA, which provides us with excellent access to materials and expertise. Most of our wooden umbrellas are made of Northern Ash hardwoods, which we find in abundance in this area. We also use the craftsmanship of the Pennsylvania Dutch population in the area to produce the best commercial umbrella on the market.
In addition to producing great market umbrellas for all hospitality endeavors, we also make cabanas, daybeds, and other site furnishings.
Manufacturing the excellent products we create is not the full scope of our activities either. We also provide repair and refurbishment for all types of site furnishings, ours and those of our competitors. 
We also provide Florida clients with the option of SAM visits, a service where we inspect for and rectify any issues regarding outdoor furnishings' Safety, Aesthetics, or Maintenance demands.
Customization Options for Pool Umbrellas
The umbrellas created by American Holtzkraft can be fully customized, from the size and shape to the style, color, texture, pattern, stitching, valances, trim, logo placement, and pole and stand composition. Call, or have your designee, call our team for a collaborative design process. We will help with all aspects of your purchase to ensure the best choices possible are made.
The poles that support these canopies can also be custom designed. We use either wood or aluminum to create them. While we primarily choose Northern Ash hardwood for wooden poles, we offer other wood options – including Plantation-Grown Teak and Western Cedar. The wooden poles are slow-dried via kiln and sealed with multiple layers of sealant in the finish of your choice. Aluminum poles can also be finished in the shade of your choice.
Every detail of the umbrellas we design and produce is to your specifications and made of high-quality materials. Only solid brass hardware and multi-laminated pieces are used to put together our umbrellas, and we'll confidently put our products up against any of our competitors' products.
All exterior furniture must be made with the threat of winds in mind. American Holtzkraft's most wind-resistant market umbrellas are designed to rotate fully around the pole and allow for the free flow of air through a double-vented canopy. This model has been shown to withstand up to 74.5 mph winds during wind tunnel testing. 
Add resort-style pool umbrellas from American Holtzkraft to secure the functionality and aesthetic required for your business. For more info about the opportunities we offer, peruse our online catalog. You can then call (570) 539-8945 or email [email protected] to place an order.