Resort Style Umbrellas
Call on American Holtzkraft to deliver high quality and style for resort-worthy market umbrellas. In addition, we provide top-notch, hand-crafted, innovatively designed site furnishings, including umbrellas, cabanas, daybeds, and other custom pieces.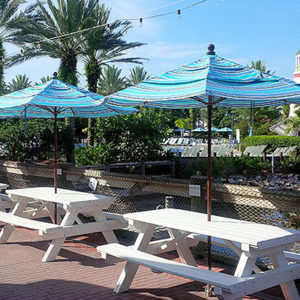 Founded in 1985, American Holtzkraft is driven by ingenuity and a dedication to safety and customer satisfaction. We are a female-owned small in Mount Pleasant Mills, PA, with a global footprint.
Key Features of American Holtzkraft Production:
High-end commercial umbrellas, cabanas, daybeds, and other custom-designed site furnishings
World-class design for durable and wind-resistant market umbrellas
Craftsmanship from the capable hands of the Pennsylvania Dutch community
Northern Ash hardwoods provide the base for wooden poles
Canopies of the best fabrics available in a plethora of colors, designs, and textures with specific pleating and stitching choices
Canopies of square, rectangle, decagon, and octagon (round) shapes
Screen-printed logo placement options
Planning a Commercial Umbrella Order
Place the best possible commercial order by collaborating with our team. We have significant experience designing and delivering the best site furnishings for individual businesses and can even provide an exclusive design that we'll reserve for use by your resort.
As you create the design, estimate how many umbrellas you'll need for the space, and create an effective layout, rely on professional guidance.
The site furnishing professionals here at American Holtzkraft can provide great assistance and service even after the sale. We do whatever is necessary to provide satisfactory service to our customers.
American Holtzkraft commercial umbrellas offer incredible longevity. The materials and methods we use result in durability in spite of heavy use, sun exposure, precipitation, and wind without beginning to look worse for wear. From the rust, warping, and degradation resistance of the pole to the fade, mold, mildew, stain, and wear resistance of the canopy, our market umbrellas are easily cleaned and can last for multiple years.
Even when the time comes for the market umbrellas to become ready for retirement, the bones are so good that our refurbishment center will resurrect them for second lives.
Market umbrella poles are made of either wood or aluminum. The wood we use is primarily Northern Ash, but we also make other options available, including Plantation-Grown Teak and Western Cedar. The wood is dried slowly with a kiln and then sealed with multiple layers of marine-grade sealant. In general, aluminum poles work better when you need to move them frequently.
American Holtzkraft prioritizes personalization and quality, but we will never sacrifice safety. For example, we no longer produce cantilever market umbrellas because of the potential for injury. We also create the most wind-resilient market umbrella on the market.
The quality and customer service provided by American Holtzkraft are world-renowned. We support the products we produce and deliver with efforts designed to assure customers of satisfaction.
In addition to the products we produce and sell, we also offer repair and refurbishment services for our products and those of our competitors. The services we offer don't end there. Clients in Florida can also take advantage of SAM visits, where we will inspect and evaluate hospitality venues' safety, Aesthetics, and Maintenance demands.
American Holtzkraft is established and capable of producing umbrellas with the style and quality worthy of your high-end resort. We invite you to check out our online catalog or reach out at (570) 539-8945 to learn more about our site furnishings and services.