Resort Umbrella Manufacturers & Suppliers
As you consider the resort umbrella manufacturers & suppliers in the US, American Holtzkraft should rise to the top of your list. Our reputation is well-deserved, and we offer all sorts of hospitality venues with precise, custom-made site furnishings for their needs.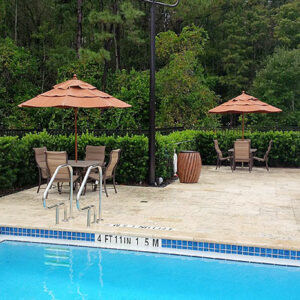 Since 1985, American Holtzkraft has produced outstanding site furnishings. As a female-owned small business, we're proud to leverage innovation, quality materials, and expert craftsmanship to provide our clients with the furnishings they need along with collaborative and satisfying customer service. If you need market umbrellas, cabanas, daybeds, accessories, or other site furnishings, rely on us.
An American Holtzkraft market umbrella is made by hand from the finest of materials. Our seven different patents facilitate the creation of a host of different models with special features and long lives of usefulness. The combination of dual venting and rotating canopy allow us to provide the most wind-resilient umbrella model available. It can survive winds of up to 74.5 mph before experiencing damage in wind tunnel testing.
The designs we produce have been recognized multiple times for their quality. The ADEX awards (Awards for Design Excellence) are the premier program for recognizing design, and we've received these honors several times.
The Selection of Canopy Fabric
American Holtzkraft produces customized market umbrellas where you can choose the canopy design that's best suited to your company's marketing. The durability and easy maintenance of the design will be a non-issue because all of our fabrics are strong, fade-resistant, stain-resistant, and mildew growth.
Commercial umbrellas are meant to be exposed to the outdoor elements. The climate, marine environment, and use do not have to wear down site furnishings before their time is complete. Being resistant to mold and mildew growth allows our umbrellas to avoid requiring intense maintenance processes as well.
Fade resistance is yet another key factor for our textiles. The beauty of the canopy will remain like new for longer when you choose American Holtzkraft products.
The inventory of textiles that we provide includes a broad swathe of patterns, textures, and colors. Screen-printing logos, inventive pleating, special stitching, and various other details come together for a design all your own. We can even provide exclusive rights of use if you would like a design that's easily recognizable as your company's own.
Quality Ingredients for a Quality Result
The ultimate goal of American Holtzkraft is to produce the ideal commercial umbrella. For this purpose, we use only the best materials. Beyond the incredible canopy material, we use hardwood, aluminum, brass, steel, and various types of marine-grade sealant and finish.
When planning an order for commercial umbrellas, select the most appropriate shape and size first. Octagon, decagon, rectangle, or square, the shape should mirror features around the space, and the size should be the width of the space, plus two feet all around to accommodate the movement of shade.
Beyond site furnishing creation, American Holtzkraft offers refurbishment and repair services. Whether you have our brand or our competition's furnishings, when they need a makeover, bring them to us for a return to their former glory.
American Holtzkraft is the best among resort umbrella manufacturers & suppliers. If you're interested, we encourage you to peruse the online catalog, check out our project gallery, and contact us via email at [email protected] or phone at (570) 539-8945.