Resort Umbrellas
A resort features outdoor dining umbrellas as a matter of course, and these pieces matter when it comes to the aesthetics and daily functioning of the business. American Holtzkraft offers premiere products, supplying the world's best hospitality businesses with a range of site furnishings.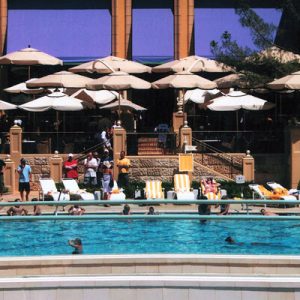 The materials, innovation, and workmanship that go into American Holtzkraft pieces result in site furnishings without comparison. We operate out of Mount Pleasant Mills, Pennsylvania, near a bounty of Northern Ash hardwoods and the Pennsylvania Dutch community. Both of these resources are critical to the strength and quality of our pieces. The products are impressive when paired with innovation, as seen in our six patents.
From the top of the market umbrella's finial to the canopy, hubs, hardware, and pole, we use the best materials, including high-end materials, multi-laminated hubs and finials, solid brass hardware, and high-quality poles. 
American Holtzkraft has been recognized repeatedly by ADEX, Awards for Design Excellence, a program dedicated to recognizing superb innovation. 
Additionally, the largest outdoor umbrella in existence, as recognized by Guinness, is an American Holtzkraft design. 
Customized Commercial Umbrellas
Market umbrella design can be incredibly customized, as can the cabanas, daybeds, and other site furnishings we manufacture. Branding, design, and function are fully integrated into each piece we produce.
Canopies of market umbrellas provide the perfect canvas for branding and design. Made to your specifications, the market umbrella canopy can feature customized:
Pleating

Color

Stitching

Logo placement

Size

Shape
Depending on the type of establishment, your branding can be as explicit or as understated as you like. Place your brand strategically with a conspicuous logo or discreet color choices. The team here at American Holtzkraft will be available to help with these designs and decisions.
Perhaps one of the most challenging design decisions faced is the size factor. The shape and size of the area in question determine the needs of the market umbrellas designed. As the sun changes position in the sky throughout the day, the umbrellas must continue providing coverage.
Accomplishing this goal requires that you factor in 2 feet of additional coverage on all sides.
The strength of American Holtzkraft market umbrellas comes from the way they're made, the materials they're made, and the design from which they're made.
For instance, the wooden pole, made from Northern Ash hardwood, Western Cedar, or Plantation-Grown Teak, is sealed with multiple layers of finish after being slow-dried with a kiln. You can even choose the finish shade that you prefer. Options include Teak, Natural, Mahogany, Stonehenge Gray, White Wash, Black Enamel, and White Enamel.
These steps promote the durability of the piece. You can also choose an aluminum composition for the market umbrella pole.
A multi-laminated hub, reinforced by stainless steel, accompanies the high-quality pole and canopy. Even the smallest pieces and components are solid metal and protected with a marine-grade finish. They're then put together in a way that protects them from damage and decay.
Discover the extent of American Holtzkraft product potential by checking out our online catalog or calling (570) 539-8945 to discuss how our efforts can complete your outdoor design needs. We serve the best resort, hotel, and other hospitality businesses with beautiful umbrellas and other site furnishings.