Restaurant Patio Umbrellas for Sale
The market umbrellas that grace your restaurant patio must incorporate your brand and style, and with customized options for sale from American Holtzkraft, that process will be straightforward.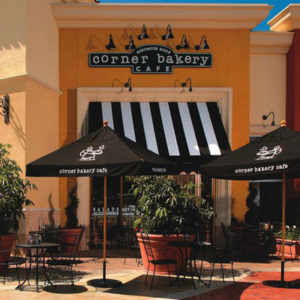 The high-quality market umbrellas produced by American Holtzkraft offer guest protection and comfort and a branding opportunity for clients. We supply elite resorts, hotels, country clubs, and restaurants in the U.S. with the market umbrellas, cabanas, daybeds, and custom site furnishings they need to establish a presence, shield guests from inclement weather, and create a boundary around individual seating sections.
Who We Are
American Holtzkraft calls Mount Pleasant Mills, PA, home. We are a small, female-owned business that continuously surpasses our clients' expectations. Since 1985, we have blended innovation, the finest materials, and customization opportunities to produce the premier USA-manufactured market umbrellas, daybeds, cabanas, and other custom site furnishings for the most prestigious venues in the hospitality arena.
Why Market Umbrellas Matter
Whether temporary or permanent, market umbrellas establish a presence that will draw in customers and guests. The outdoor areas where they're placed provide shade from the sun and shelter from light rain. Our custom market umbrellas offer an opportunity for logo placement that brands would be crazy to pass up as well!
The quality of market umbrellas is also essential. Every element we factor into our umbrellas is meant to work with all of the other elements and provide the best quality possible.
Maintenance is a key element of all outdoor furnishings, especially market umbrellas. We use materials that are resistant to fading, staining, and mold or mildew growth.
Our specialists at American Holtzkraft will assist you with customizing the ideal market umbrella for your venue. We take all steps necessary to achieve your satisfaction.
Quality, safety, and value should all factor into your choice of a market umbrella. We use quality components, safe design, and unique innovation. Our use of stainless steel, aluminum, solid brass, and layers of finish protects against warping, corrosion, and degradation.
American Holtzkraft relies on patented innovations in design, hand-crafted artisan excellence, and the best materials available. Our market umbrellas are the most wind-resilient umbrella on the market with dual venting and a rotating canopy. Wind tunnel testing has shown our umbrella design to remain damage-free until winds reach 74 ½ mph.
The customized market canopy is such a great branding opportunity! The branding you choose can be as subtle or overt as you like. A simple choice of unique colors or a canopy emblazoned with a logo are all options. The customization options related to canopies include:
Color
Design
Texture
Stitching
Pleating
Logo placement
A market umbrella from American Holtzkraft is made to last for years upon years, and we offer repairs and refurbishment in addition to custom site pieces.
Any hospitality business, including a restaurant, needs patio umbrellas, and those for sale from American Holtzkraft are the absolute top of the line. If you're interested in learning more about our products or placing an order, contact us online or call (570) 539-8945.