Restaurant Patio Umbrellas
When provided by American Holtzkraft, patio umbrellas in outdoor restaurant spaces promise comfortable and elegant dining. Our market umbrellas are the obvious choice with a blend of ingenuity, craftsmanship, and the finest materials.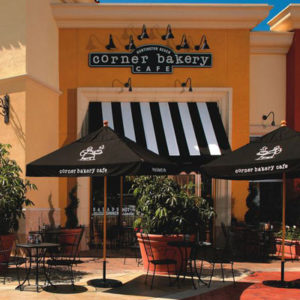 Market umbrellas from American Holtzkraft are so remarkable that they can deliver a high-end aesthetic, a cozy seating area, a built-in branding opportunity, and protection for guests from UV rays, sun exposure, and the unexpected shower.
Why Choose American Holtzkraft
With headquarters in Mount Pleasant Mills, PA, American Holtzkraft leverages the local abundance of Northern Ash hardwood and the craftsmanship of the Pennsylvania Dutch population. Women-owned, our small business was founded in 1985, and, in the time since, we have prided ourselves on offering the finest, safest, and best-designed market umbrellas.
American Holtzkraft provides a range of products and services, including the following:
Market umbrellas
Cabanas
Daybeds
Site furnishings
Accessories
Repair and refurbishment services
SAM (Safety, Aesthetics, and Maintenance visits) – Florida clients only
Your Choice of Market Umbrella
Market umbrellas for restaurant patios are available in various sizes, styles, shapes, colors, and designs through American Holtzkraft. We encourage the designers, executives, and landscape architects considering our products to reach out for a bit of guidance regarding the options. We're always open to customizing designs for our clients. With a purchase from us, you can count on wind resilience, fade resistance, durability, fine quality, and easy maintenance of your market umbrellas.
Each market umbrella we produce consists of a canopy composed of durable fabric in the color and design of your choice, pleated and arranged in the manner you prefer, multi-laminated hubs and finials, and solid brass hardware. The quality and attention to detail are apparent when comparing an American Holtzkraft market umbrella to one made by competing companies.
When you are familiar with market umbrellas, you understand the damage that windy conditions can cause. American Holtzkraft has developed a patented mechanism that allows the umbrella to withstand the stress of windy conditions. In wind tunnel testing, our restaurant umbrellas are proven to be safe and durable.
The poles of our market umbrellas are available in aluminum or ash hardwood. The durable varnish finish is marine grade and enhances rust resistance.
The wood stains we use to seal the kiln-dried ash hardwood are available in several shades and add high-end aesthetic and lasting durability.
Standard aluminum features provide the market umbrella with lasting strength. The modern design and easy on-site repair come from the engineered ribs attached to the hub through a steel pins and screws system.
As you browse companies offering umbrellas for your outdoor dining needs, consider our reputation and the quality of our products. We stand behind every sale and strive to surpass our customers' expectations.
Bring the atmosphere of elegant dining outdoors with restaurant patio umbrellas from American Holtzkraft. Your investment will last for many years to come and impress guests with a sense of class and coziness. Learn more about our products or place an order by reaching out online or calling (570) 539-8945.