Restaurant Umbrellas Wholesale
Restaurant umbrellas at wholesale prices are available through American Holtzkraft. We can accommodate the areas of your hospitality venue with appealing site furnishings that promote the functions of your business and your patrons' positive experiences.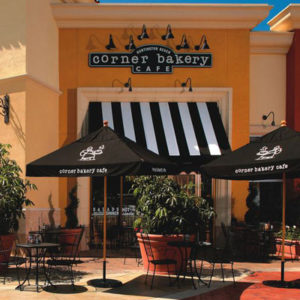 American Holtzkraft is a female-owned small business founded in 1985 in Mount Pleasant Mills, PA, based upon the following principles:
Quality materials

Expert workmanship

Innovative design
Our location alone is perfectly positioned, being near an abundant supply of locally grown Northern Ash hardwoods and the skilled population of Pennsylvania Dutch craftsmen. In addition to market umbrellas, we create daybeds, cabanas, and other custom-designed site furnishings.
Identifying the Right Size for Your Restaurant's Market Umbrellas
The measurements and sizing must be accurate for your restaurant's exterior design. Measuring market umbrellas requires that you extend the tool from one tip on the ribs to the other tip. The canopy's width is the identifying measurement rather than the height. 
The area that needs to be shaded plus two additional feet will be the measurement you should choose for your market umbrella. The shape, be it square, rectangular, decagonal, or round should reflect that of the table, chaise lounge, or area of question. 
The crew at American Holtzkraft can help design the ideal market umbrella for your restaurant, taking the complexity out of layered choices.
Choose Strong Market Umbrellas Made by American Holtzkraft
Wooden or aluminum poles support the canopies of American Holtzkraft market umbrellas.
Wooden poles are typically made of Northern Ash hardwoods, the hardest of the North American hardwoods, sealed after being kiln-dried with the finish of your choice. We do offer Plantation-Grown Teak and Western Cedar timber as options, however.
The pole and canopy are further supported by several stanchions and stand products offered by American Holtzkraft. 
American Holtzkraft market umbrellas are resistant to damage from wind. We hold patents intended to help umbrellas mitigate the stress of wind. A fully rotating and dual venting canopy permit the wind to flow through our products instead of against them. Wind tunnel testing has shown these measures to stand against winds of 74.5 mph before any wear or tear occurs.
American Holtzkraft Customization Options for Market Umbrellas
The custom options we provide for our market umbrellas make us different. Choose the shape and size and follow up with colors, logos, stitching, pleating, and more. You choose the specifics and we'll design your market umbrellas and give you exclusive rights.
All of the many design choices may seem overwhelming, but bear in mind that we offer the assistance of a team of experts with one simple call!
After the Purchase
American Holtzkraft will help you save even more with repair and refurbishment services. Sustainable use of your site furnishings, whether our brand or our competitors, will save money and help the environment.
Clients in Florida can rely on us to perform SAM visits. We'll evaluate the Safety, Aesthetics, and Maintenance of your space and provide solutions to any problems therein.
The priorities of safety, quality, longevity, and appeal drive the work of American Holtzkraft as we produce market umbrellas for restaurants, hotels, and other hospitality businesses on a wholesale basis. Enhance your exterior today with pieces made for your purposes by calling (570) 539-8945 or emailing [email protected] after you peruse our online catalog.