Restaurant Umbrellas
Restaurant umbrellas from American Holtzkraft provide the features needed for high-end fine dining establishments and the downtown corner coffee shop. We can offer market umbrellas that will surpass all of your expectations and meet the needs of your outdoor dining spaces.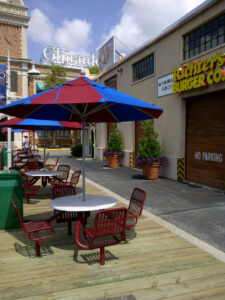 Established in 1985 in Mount Pleasant Mills, PA, American Holtzkraft is female-owned and operated. We're born from innovative designs that leverage the finest materials and workmanship. With six different patents and several models available, our market umbrellas are top-of-the-line, and we provide the ultimate in cabanas, daybeds, and custom site furnishings.
Any outdoor dining experience would be incomplete without market umbrellas. They anchor table settings, shield the sun's glare and heat, block precipitation, and give diners a sense of privacy. When you take advantage of our custom potential, you can also promote your restaurant's branding through market umbrellas.
Invest in American Holtzkraft market umbrellas to reap all of the following benefits:
Shade from the sun – what diner will eat outside on a hot day without shade?
Protection from the rain – customers will be miserable if doused in a sudden rainstorm.
Privacy for diners – Dinner conversation will be more comfortable when guests feel somewhat isolated by the presence of an anchoring market umbrella.
Promotion of your restaurant – add your logo, complement branding colors, and use a thematic design with a customized American Holtzkraft market umbrella.
Enhance the atmosphere – Market umbrellas can add to the mood of outdoor spaces, especially lighted models when used for romantic evening meals al fresco.
Improve guests' dining experiences in outdoor spaces by choosing American Holtzkraft market umbrellas. As you determine the details of the model you desire, consider the following factors:
Size and shape – The shape should complement surrounding furniture and features, and the size should reflect the area needing shade plus a 2′ easement. The size of market umbrellas doesn't refer to height; it's the measurement from tip to tip.
Style – The style of the umbrellas should mirror that of the restaurant – casual or elegant, colorful or subdued.
Weather conditions – Whether you typically face the sun, rain, or high winds, prepare for all threats with American Holtzkraft market umbrellas.
Financial boundaries – Every purchase a business makes must be smart. You might find less expensive market umbrellas than ours, but they will have to be replaced sooner and will not provide an easy-to-use, easy-to-maintain experience.
After purchasing market umbrellas, care is necessary. To keep them in ideal condition, have a dedicated storage place, install them using the specific systems needed for your umbrella, clean them regularly, and send them to us for refurbishment when the time comes.
American Holtzkraft produces strong market umbrellas made with either wooden or aluminum poles. The wooden poles are made of Northern Ash primarily, kiln-dried and multi-laminated, and then reinforced with an aluminum flush guard.
The wind-resilient market umbrella that we produce features a rotating canopy and dual-venting canopy that reduce the pressure of winds against the canopy. During wind-tunnel testing, this umbrella model can withstand 74.5 mph winds before damage occurs.
For restaurant umbrellas from American Holtzkraft, call (570) 539-8945 or email us at [email protected]. Our innovative and well-made site furnishings will complete your outdoor spaces with great functionality and visual appeal.