Square Outdoor Patio Umbrellas
If you're looking for the perfect outdoor umbrellas for the patio of your venue, consider square options when trying to shade a square table or a pair of chaise lounges. American Holtzkraft provides various sizes of market umbrellas to outfit all hospitality venues. 
American Holtzkraft has a global footprint, providing masterpiece-level site furnishings for high-end hospitality establishments all over. 
Choosing between Round and Square Umbrellas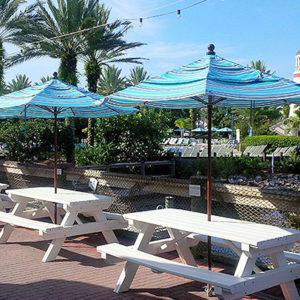 Patio umbrellas should protect guests from sun exposure and precipitation above all else. A quality market umbrella is essential to the full enjoyment of a patio or poolside, but the custom potential of the purchase can make shopping overwhelming.
Begin the shopping process by choosing between round and square market umbrellas.
Round umbrellas are actually octagonal, with eight sides to support the canvas. They're ideal for shading a round table and complement a more coastal or whimsical aesthetic.
Square umbrellas provide shade over square tables or a pair of chaise lounge chairs, particularly when trying to achieve a modern, professional aesthetic.
The shape and size of market umbrellas will depend on the specifics of the space you need to shade. The size chosen will need to incorporate an extra two feet on all sides to accommodate the position of the sun and the movement of shade from morning to evening.
Female-owned and operated, American Holtzkraft has been designing and producing high-end market umbrellas since 1985. We manufacture market umbrellas, cabanas, daybeds, and other custom site furnishings. We rely on the skills of the Pennsylvania Dutch population to make unique hand-crafted products, and we leverage the hardest of the hardwoods, the Northern Ash, which also grows in the area of Mount Pleasant Mills, PA, where you'll find our headquarters.
American Holtzkraft products are meant to welcome guests into the hospitality experience. The aesthetic should be inviting, and the coverage should be shady and protective against drizzle, rain, or even an unfortunate bird incident.
The Quality of Market Umbrellas
The type of patio umbrella homeowners buy from their local department store differs from our market umbrellas. We at American Holtzkraft produce high-end, durable umbrellas that are stable, safe, and long-lived.
We offer the most wind-resistant market umbrella available, with dual venting and a fully rotating canopy, allowing the umbrella to stand firm against winds up to 74.5 mph.
The fabrics composing American Holtzkraft canopies are strong. Features of this fabric include:
Fade resistance

Stain resistance

Durability

UV protectant

Easily cleaned

Resistant to mold and mildew growth

Multiple color and pattern options
Further customize your American Holtzkraft market umbrellas by incorporating your company's logo, choosing a unique design of pleats and valances, and selecting the type and finish of pole and base.
The service we provide is entirely dedicated to customer satisfaction. Our team does everything possible to please our clients and make the occasional mistake right. Additionally, we provide an entire space dedicated to repairing and refurbishing American Holtzkraft furnishings and those of our competition.
Florida clients can schedule a SAM visit. During this occasion, our team will evaluate the Safety, Aesthetics, and Maintenance of these spaces to maximize their use and appeal.
Are you in charge of purchasing site furnishings for a hospitality venue? Choose American Holtzkraft for the square, round, rectangle, or decagon patio umbrellas for your outdoor hospitality spaces. We aim to provide functional, appealing, and custom furnishings. Learn more by perusing our online catalog or calling (570) 539-8945.