USA Commercial Umbrella Manufacturers
American Holtzkraft stands out as one of the best commercial umbrella manufacturers, both within the USA and without. Our customer satisfaction commitment is without comparison, and the quality of the products we build comes from the best of design, material, and workmanship.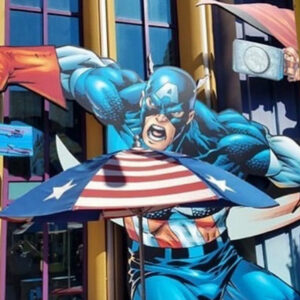 The market umbrellas that we build integrate all of the components in premier condition, and we do everything required to satisfy clients when mistakes occur. This level of quality and service ensures that our clients return for furnishings, refurbishment, and inspections.
American Holtzkraft calls Mount Pleasant Mills, PA, home, as we have since 1985. We're a female-owned small business serving the needs of all sorts of hospitality endeavors including hotels, restaurants, cruise lines, theme parks, water parks, and other event spaces. Since we first began creating site furnishings, our reach and network of clients have grown significantly.
Northern Ash, the hardest of the North American hardwoods, is the wood used to produce baseball bats as well as American Holtzkraft wooden poles. High-end market umbrellas like those we produce have lasting canopies made from durable and stunning textiles, solid brass hubs, finials, and other hardware.
Alternatively, our customers can choose market umbrellas made with aluminum poles, with brushed or powder finishes.
Components of American Holtzkraft Market Umbrellas
The poles of American Holtzkraft umbrellas are designed for strength of support, use, and exposure. Customers can choose a wooden or aluminum option.
The wooden pole is generally made of Northern Ash hardwoods, but we also offer timber options of Western Cedar and Plantation-Grown Teak.
We kiln dry and seal the timber that we use for poles and other features with marine-grade glue and several layers of sealant. The pole is also protected via an aluminum flush pole guard to mitigate the effects of swelling.
Aluminum poles provide strength and weather resistance, and you can designate the brushed or powder finish of your choice.
The hub of the umbrellas is also multi-laminated and resilient despite exposure, and the solid brass brackets and process for connecting the fabric ensure the strength of the furnishing and prevent the tearing of fabric during use.
The textiles used for the canopies of our market umbrellas are equally strong. They're available in a variety of colors, patterns, textures, pleating styles, valances, and even stitching patterns. We can also screen-print your logo directly on the umbrella's canopy. Not only will you have an incredible branding opportunity, but the canopy also resists UV permeation, precipitation, wear, tear, fading, staining, and mildewing.
The best market umbrellas for your company's outdoor space must be the best size and shape. The space that requires shade should be covered with 2' of clearance on all sides along with a shape that mirrors surrounding elements. The additional 2' provides room for the sun to move throughout the day so that the shade continually covers the space intended.
The American Holtzkraft name stands apart. Our prices and variety of models meet all types of hospitality needs for outdoor site furnishings. From built to specification, custom pieces to entire themes of furnishings, our designs will withstand tests of time, use, and exposure.
We also offer refurbishment services to give used pieces a second life, those of our own brand as well as our competitors.
In the USA, come to American Holtzkraft if you're looking for the best commercial umbrella manufacturers. Learn more or place an order by giving us a call at (570) 539-8945 or reaching out via email at [email protected].