Vented Windproof Commercial Umbrellas
Hospitality venues require commercial umbrellas, and for a long life unaffected by exposure, choose vented, windproof options from American Holtzkraft. Our patented approach to withstanding wind results in the most wind-resilient market umbrella sold.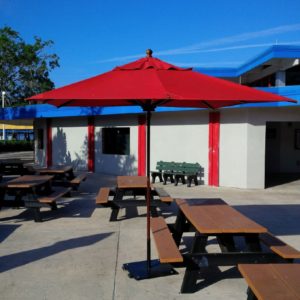 Standing up against one another, our wind-resilient market umbrellas and the competition create no
contest whatsoever. In wind tunnel testing, the dual venting and rotating canopy capabilities enable our market umbrellas to withstand winds up to 74.5 mph before experiencing damage.
We welcome the opportunity to personalize and build custom site furnishings for your company.
The Right Protection for Appropriate Client Experiences
Hotels, water parks, theme parks, country clubs, restaurants, and pop-up shops all require market umbrellas, but the configuration, shape, and design needs may differ. We cater to all demands by providing a comprehensive inventory of all shapes and sizes. As you prepare to order, measure the area in question and add two feet on all sides. This extra space will create sufficient shade as the sun moves from east to west so that the entire table is usable throughout the day.
Less Maintenance for Quality Experiences
Hospitality staff experience demanding workdays filled with tasks and responsibilities. With American Holtzkraft market umbrellas, upkeep of them won't take up as much of that list as it would with competitors' furnishings. Our market umbrellas also resist staining, mildewing, fading, and weathering.
Invest in Longevity and Durability
American Holtzkraft market umbrellas come in a range of price points, but we encourage clients to consider the lifespan and strength of the purchase. You will save multiple times when the pieces last season after season and can be refurbished when they begin to show age.
When issues occasionally arise, we go above and beyond to make wrongs right and satisfy our customers. Our customer support efforts are comprehensive and consistent.
The mark made by American Holtzkraft with our site furnishings provides a balance of quality, innovation, and craftsmanship to meet all of our clients' needs.
This balance has been true of American Holtzkraft since 1985, when we began operations. We are a female-owned company producing American-made products that provide value and quality by leveraging the labor and natural resources available to us. We use the hardest hardwood in North America, the Northern Ash, and the quality skills and eye for detail of the Pennsylvania Dutch population.
The custom, handmade market umbrellas, cabanas, daybeds, and site furnishings that we produce are remarkable. We have six separate patents on our designs, and we choose only strong, durable, and high-quality materials.
The commercial umbrella canopy provides businesses with the opportunity to pay for themselves. We use fabrics that avoid wear and tear, fading, staining, and mildewing. Time, weather, and use do not negatively affect an American Holtzkraft market umbrella. Place your company's logo on the canopy for built-in advertising and marketing.
Additional choices that you'll have relative to the canopy include the texture, design, and color of the fabric, the placement and logo of your company, and the pleating and stitching of the canopy.
Vented, windproof commercial umbrellas from American Holtzkraft allow you to have confidence in the quality of experience your guests will enjoy. Restaurants, hotels, beachfront resorts, and other venues can carry one without rushing to take down umbrellas when winds rise. Discover all about our products by browsing the online catalog or calling to speak with our team at (570) 539-8945.