Vented Windproof Umbrellas
Lasting quality is the key feature of American Holtzkraft vented windproof umbrellas, as well as the rest of our offerings. Regardless of why you need to furnish the area and the space you have to work with, we can provide products that will interest your patrons, give them comfort, and work with your home's aesthetic.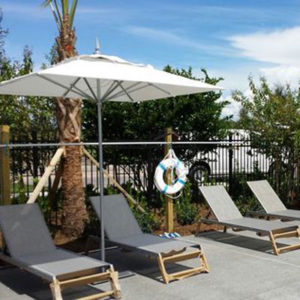 Female-owned and headquartered in Mount Pleasant Mills, PA, American Holtzkraft was founded in 1985. We leverage highly innovative designs, quality materials, and fine craftsmanship from the area in our efforts.
A Market Umbrella Primer
Selecting the Appropriate Size American Holtzkraft Market Umbrella
An inappropriately sized market umbrella will look out of place and won't fulfill the required purpose efficiently. The width of market umbrellas rather than the height determines the best fit. The measurements of our market umbrellas indicate the length from tip to tip by the ribs.
As you measure these dimensions, add two feet to each side to provide adequate shade throughout the day. We realize that you don't order market umbrellas every day. Reach out to our customer service staff for help fulfilling your needs and preferences; we're experienced and knowledgeable about the process.
Recognizing the Strength of American Holtzkraft Market Umbrellas
Compared to the competition that uses thin steel rods for umbrella poles, American Holtzkraft employs what we proudly call "the original steel pipe reinforced laminated pole." Our wooden poles are made of North American hardwood ash, the hardest hardwood in the North American continent and the same wood used for baseball bats.
The Windproof Quality of American Holtzkraft Market Umbrellas
American Holtzkraft employs two different features that promote wind resilience. Of course, nothing is foolproof against severe winds, but our market umbrellas are proven to withstand winds up to 74.5 mph in wind tunnel testing. Dual venting and the rotating canopy of our wind resilient market umbrella provide this strength. The rotating feature that allows the canopy to spin and withstand the pressures of windy conditions is patented by American Holtzkraft under Patent #5020557. The dual venting permits the wind to flow directly through the canopy and mitigate the stress of high winds.
The Custom Potential for American Holtzkraft Market Umbrellas
American Holtzkraft market umbrellas stand out even more from our competition by allowing for customization. Whether you know precisely how your market umbrellas should be designed or require help, call us.
You can conceptualize the entire market umbrella design. The color and design of the fabric, added pleats and trim, custom stitching, and logo design and placement are all on the table.
Repair and Refinishing from the Team at American Holtzkraft
American Holtzkraft prioritizes providing the best quality market umbrellas, but we also apply the masterful craftsmanship and use of materials to repair and refinish site furnishings, both our brand and products from our competitors. Count on us to inspect, replace broken parts, refinish, and sew on replacement materials when needed. We'll give your older outdoor products a second life for your business's use.
Vented windproof umbrellas from American Holtzkraft will provide comfort and unity for your business's exterior spaces for years to come. To check out the various types of site furnishings we offer, navigate to our online catalog or give us a call. We're always happy to provide input when requested in any fashion possible.