Wind-Resistant Outdoor Dining Umbrellas
Are you searching for the most wind-resistant outdoor dining umbrellas available for hospitality businesses? Look no further than American Holtzkraft. We supply quite a selection of features and personalization in our catalog of umbrellas, cabanas, daybeds, and other site furnishings.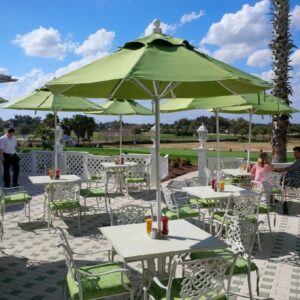 American Holtzkraft, born in 1985, calls Mount Pleasant Mills, PA, home. We prioritize the three essentials of fine materials, innovation, and quality workmanship. We have seven different patents that guide the creation of our umbrella models, and we also welcome the needs of our clients in the design creation process.
The results of our processes and priorities are world-class, and we satisfy the site-furnishing needs of many hospitality businesses around the globe.
All American Holtzkraft products are made in the US, and they're made to withstand daily use and exposure. In addition to made-to-spec site furnishings, we provide repair and refurbishment services for all brands.
The Perfect Shade for All Venues
Our market umbrellas allow guests to appreciate the luxurious outdoor spaces provided by hospitality venues without the consequences of the sun's brilliance, glare, and heat.
Umbrella canopies offer venues the space to further a branding campaign. A custom design may cater to your choice of the following parameters:
Color
Stitching pattern
Shape
Size
Pleating design
Logo design and placement.
American Holtzkraft Market Umbrella Features
American Holtzkraft market umbrellas are available with either wood or aluminum poles. For the wooden poles, we use primarily Northern Ash hardwoods, but clients can choose other timber options, including Western Cedar and Plantation-Grown Teak. All of our wooden poles are slowly dried in a kiln and protected with several layers of marine-grade glue and sealant in the shade of your choice. An aluminum flush pole guard offers further protection from warping due to exposure.
The textiles chosen to create American Holtzkraft market umbrellas are also strong and durable. While available in various colors and patterns, the fabric resists fading, staining, UV penetration, and tearing. Additionally, we attach the fabric using solid brass hardware to prevent wear during use.
Smart Design for Versatile Use
Innovative market umbrella design formed the basis for our founding. We knew we could build a stronger, better umbrella, so we did. It can withstand high winds by allowing the umbrella to rotate 360° around the pole. Combine this feature with dual venting of the canopy for even greater wind resilience. Wind tunnel testing demonstrates that this model can resist damage up to 74.5 mph high winds.
Rely on an American Holtzkraft market umbrella to deliver all of the following advantages:
Durable and protective marine-grade varnish
Numerous layers of sealant provide excellent weather protection
UV protective varnish
Clean air standard-compliant VOC
Numerous shades of wood finishes – Teak, Natural Mahogany, Stonehenge Gray, White Wash, Black Enamel, and White Enamel
Aluminum models feature sleek designs with strong aluminum pieces attached to stainless steel hardware.
Clients of American Holtzkraft receive absolute customer satisfaction with made-to-order site furnishings and repair/refurbishment services. We also offer Florida venues SAM inspections to maximize their Safety, Aesthetic, and Maintenance elements.
The wind-resistant outdoor dining umbrellas from American Holtzkraft will give your venue visual appeal and prime functionality. Your guests will appreciate the comfort and sense of privacy that a quality umbrella provides. Click here to browse our gallery, and call (570) 539-8945 to speak with our expert team.