Wind Resistant Outdoor Umbrellas
Have you grown weary of replacing commercial outdoor umbrellas due to wind damage and needing quality, wind-resistant replacements? Choose American Holtzkraft! We provide ideal, customizable options that are made with the best materials, designs, and artistry.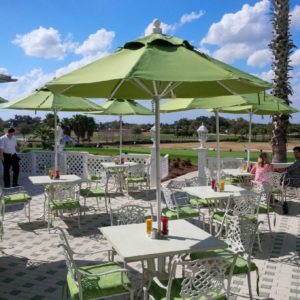 The market umbrellas we manufacture offer venues of all types an appealing look, an established focal point, comfortable seating and gathering places, company branding opportunities, and guest protection.
American Holtzkraft brings three key factors to the table:
Creative design
Pennsylvania Dutch craftsmanship
Northern Ash hardwood features
We've operated as a female-owned, customer-driven small company since our founding in 1985. Since then, we've established a worldwide presence in the site furnishing market for hospitality venues. Our specialties include market umbrellas, cabanas, daybeds, accessories, and other site furnishings. Our services extend from inspection to repair and refurbishment, with SAM (Safety, Aesthetics, and Maintenance) visits being available to Florida-based clients.
The market umbrellas we design for our customers are available in various sizes, styles, shapes, colors, designs, and materials. As your company's decision-maker, you are encouraged to contact our team to walk you through the process of adapting the market umbrella you need with specific features.
In addition to customization, American Holtzkraft customers receive products resistant to wind damage, fading, weathering, mildewing, and staining. Furthermore, our products are composed of the finest quality materials and designed for easy maintenance and repair.
American Holtzkraft market umbrellas are made with hardy, UV-resistant fabrics for the canopy portion of the piece. The canopy can be made in the color and design you choose, with the trims, valances, and pleating method that work for your preferred aesthetic. These pieces are arranged and attached with multi-laminated hubs, finials, and solid brass hardware.
Look closely at our market umbrellas compared with our competition to see the quality difference clearly.
Wind-resistant market umbrellas are critical to outdoor venues. When unexpected winds arise, your site furnishings shouldn't be subject to immediate damage. American Holtzkraft offers a patented system that permits canopy rotation around the axis of the umbrella's pole and dual venting. These two features allow the wind to flow through the umbrella. Without resistance, the wind is less likely to cause damage. Wind tunnel testing conditions show our umbrellas to handle winds up to 74.5 mph before damage occurs.
As for the poles of our market umbrellas, you can choose wood or aluminum, both protected with marine-grade, corrosion-resistant varnish, and finishes. Our wooden poles are slowly dried via kiln and come with several different shades. The aluminum market umbrellas are designed with particular thought to easy on-site repair and mobility.
The ideal market umbrellas and other site furnishings for your venue await you at American Holtzkraft. As a company, we prioritize customer satisfaction, standing behind all sales and making it a mission to make few mistakes but always correct those that do occur.
As you add atmosphere and protection for your patrons, do so with wind-resistant outdoor umbrellas from American Holtzkraft. The products will provide functionality and an appealing aesthetic season after season. To browse our products, click here for our online catalog, and place your order via email at [email protected] or by phone at (570) 539-8945.