Wind Resistant Patio Umbrellas
Are you weary of buying new market umbrellas for your business yearly? The wind-resistant patio umbrellas we make at American Holtzkraft are the perfect solution for protecting your patrons from sun exposure in a form that won't be easily damaged by wind and weather.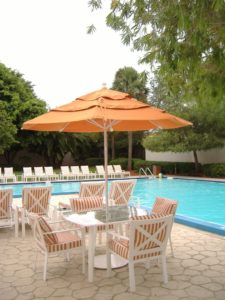 Furthermore, our customer service will ensure that you're delighted with the market umbrellas, cabanas, daybeds, accessories, and other site furnishings we provide.
American Holtzkraft serves water and theme parks, golf and beach resorts, restaurants, country clubs, cruises, and other hospitality ventures.
We can supply just about any size of market umbrella you need for your business, providing ideal shade for dining, outdoor markets, event spaces, and much more. The custom-designed pieces we create will perfectly suit the specs you provide, functionally and aesthetically meeting all of your business's needs.
The team here at American Holtzkraft will be happy to help as you design the specific product and layout of your event space. Key features you should consider include the square footage of the space, the capacity requirements, and the preferred flow of movement.
As you calculate the space that needs shade and the appropriate size for the market umbrella to cover it, remember to add 2' to the width. This extra coverage will compensate for the fact that shade moves as the sun's position in the sky changes. Of course, you must also make room for movement, a walkway, and at least a semblance of privacy among the tables.
Cookie cutter designs are not the American Holtzkraft way. Instead, we customize your market umbrellas in the style, size, shape, color, design, and even pleating pattern you choose. These specifics allow you to match the space's functional need with the business's brand and tone.
Best Quality Commercial Market Umbrellas
Founded in 1985, American Holtzkraft focuses on providing hospitality venues with the height of quality in our umbrellas, daybeds, cabanas, and site furnishings. We operate out of Mount Pleasant Mills, PA, as a female-owned small business.
The plethora of products we offer comes with numerous options regarding features, but we maintain a commitment to safety and customer service.
Every market umbrella has a pole and a canopy.
American Holtzkraft offers wooden or aluminum poles and canopies in various shapes, including rectangle, decagon, square, and octagon (round).
The wooden poles are primarily made of Northern Ash hardwoods, the hardest of the hardwoods grown in North America; although, we also offer a range of other wood options, including Plantation-Grown Teak and Western Cedar. These woods are slow-dried via kiln and sealed with multiple layers of sealant and the finish of your choice.
Wind Resilient Commercial Umbrellas from American Holtzkraft minimize the pressure of the wind against the umbrella through two mechanisms: dual venting and full rotation of the canopy. In wind tunnel testing, this umbrella withstands winds up to 74.5 mph before any damage occurs, and the videos demonstrating this testing are available.
The wind-resilient patio umbrellas provided by American Holtzkraft can be designed around your needs. We specialize in customizing and satisfying all orders and all customers. If you'd like to learn more, please reach out via phone at 570-539-8945, by email at [email protected], or by viewing our online catalog!