Windproof Outdoor Umbrellas
The perfect wedding, a day spent lounging poolside, or a heavenly meal enjoyed al fresco can all be ruined when you lack the best windproof outdoor umbrellas for your venue. American Holtzkraft offers the stable, strong, and durable pieces that you need to furnish the exterior of any hospitality space safely and elegantly.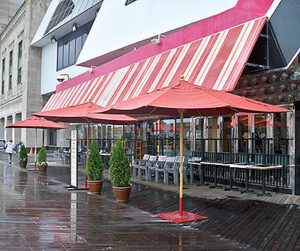 The hospitality space as a whole can be met with appropriate market umbrellas, cabanas, daybeds, and other site furnishings. Our clients span the globe and include resorts, country clubs, cruise lines, theme parks, water parks, restaurants, and so much more.
The superiority of American Holtzkraft products is crystal clear from the first comparison. We stand behind every sale and offer repair and refurbishment services for our products and those of our competitors. We believe in complete customer satisfaction with a commitment to safety, quality, and custom options.
Hospitality Spaces Should Invite and Protect Patrons
The exterior spaces of hospitality businesses should invite guests to come and enjoy them. Depending on the purpose of the space, you'll need various sized market umbrellas, large enough to shade the area in question and the right shape to cover individual design layouts. The appearance and the coverage provided by the umbrella should be appealing to guests as they arrive.
Hospitality Spaces Should Invest in Safety and Quality
Having to purchase new market umbrellas year after year is a drain on the furnishing budget of your venture. Still, if you invest in quality American Holtzkraft market umbrellas from the beginning, you'll be set for the long term. Our products are made in America and built to last, with the finest possible materials, workmanship, and methods available.
Safety is always our priority. Therefore, we provide safe products and stabilization systems, refusing to manufacture cantilever umbrellas due to the potential hazards they cause.
Hospitality Spaces Require Easy Maintenance
When workers spend an exorbitant amount of time taking care of properties and accessories, they spend less time on other things that could lend to a better guest impression. For example, American Holtzkraft market umbrellas are resistant to corrosion and warping, and the canopies resist weathering, fading, staining, tearing, and mildewing, with easy maintenance involved.
Hospitality Venues Should Choose American Holtzkraft
American Holtzkraft, founded in 1985, offers the best market umbrellas in the industry. We can produce incredible hand-crafted pieces by choosing the finest materials, most skilled craftsmen, and creative designs.
We hold six patents related to our market umbrellas' design and have won the ADEX awards, or Awards for Design Excellence, on several occasions.
The windproof nature of our market umbrellas relies upon two essential characteristics; one is dual venting, and the other is a rotating canopy. These features allow the wind to flow through rather than against the market umbrella, minimizing the stress on the piece.
We use marine-grade thread and fabric to provide added strength, along with double stitching for secure sewing. The fabrics we offer vary in color, design, and texture, and we provide various options for adding trim, valances, and pleats. We even offer screen printing to place your company's logo on the canopy when you deem it appropriate.
The windproof outdoor umbrellas created by American Holtzkraft offer protection for all patrons at hospitality venues. We invite you to peruse our online catalog and welcome your calls [570-539-8945] or emails (cus[email protected]) to learn more or to place an order.