Windproof Umbrellas
Does your business find itself in need of windproof umbrellas for outdoor eating, lounging, or display spaces? American Holtzkraft produces the most wind-resilient market umbrella available, as well as other custom site furnishings, including cabanas, daybeds, and more.
Introducing American Holtzkraft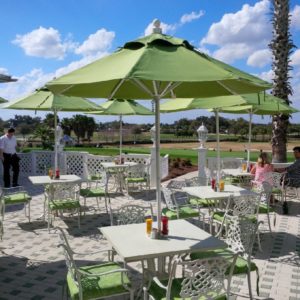 Operating out of Mount Pleasant Mills, PA, American Holtzkraft is a female-owned small business founded on innovation and quality materials. Since 1985, we have produced the finest market umbrellas and site furnishings, and we serve businesses in the hospitality sector all over the world.
From theme and water parks to golf and beach resorts, restaurants, hotels, and other hospitality venues, a variety of businesses make use of custom-designed American Holtzkraft market umbrellas, cabanas, daybeds, and other site furnishings.
The World's Most Wind-Resilient Market Umbrella
The secrets to our amazing market umbrella come mainly from a canopy that rotates around the axis and includes double venting to reduce the stress from high wind conditions. In wind tunnel testing, these market umbrellas have proven to withstand 74.5 mph winds before experiencing damage.
Consider the features of the American Holtzkraft market umbrella:
Rotating Canopy Finial – the tip-top of the market umbrella sports a wooden, multi-laminated elegant finial or an aluminum, solid and durable one. We also offer non-standard finial styles.
Reinforced Leading Edge – double-bolded and triple-stitched fabric with ultraviolet protected (UV) fabric and thread.
Air Vents – choose between single or double vent options. Venting permits winds to pass through the canopy and lessens the stress on the canopy's structure.
Reinforced Stress Points – two layers of fabric are double-stitched for superior strength in all environments.
Top and Bottom Hubs – for wooden market umbrellas, all hubs are multi-laminated wood reinforced with stainless steel screws. For aluminum market umbrellas, the hubs are solid, machined aluminum with an optional powder coat finish. Stainless steel fasteners are also used for maximum function in unwelcoming environments.
Pin and Chain – to adjust the height and tautness of canopy fabric, the standard market umbrella pin and chain are solid brass or stainless steel. The chain holds the pin within the umbrella.
Aluminum or Wooden Market Umbrella Pole – our poles are vastly superior to the competitor's market umbrella poles. We use the same hardwood used to construct baseball bats, North American Ash, the hardest of the hardwoods grown on the continent. By slow-drying the wood via kiln and laminating it multiple times with marine-grade sealant, we produce long-lasting, strong poles for our market umbrellas.
Finish Options for Market Umbrella Poles – You can choose an optional powder-coated finish for aluminum poles. For wooden poles, you can opt for teak, natural mahogany, Stonehenge gray, white wash, black enamel, or white enamel.
Four Lift Mechanisms – traditional manual lift, single pulley, double pulley, or automatic opening device
The site furnishings that we produce are also available in various wood options, including plantation-grown Teak and Western Cedar
The patents that we hold include all of the following:
Thatch Umbrella – Patent #6802325
Fan Umbrella – Patent #6691721
Misting Umbrella – Patent #6682000
Two-piece self-locking pole stand – Patent # 5337989
Rotating Canopy Umbrella – Patent #5020557
Automatic Opening Umbrella – Patent #4928718
The focus of American Holtzkraft products is on quality and strength, and we provide windproof umbrellas for many hospitality businesses. Browse our online catalog, dial (570) 539-8945, or email [email protected] to learn more about our products or to place an order.