Wood Market Umbrellas
Do you require wood market umbrellas for the exterior of a theme park, restaurant, country club, hotel, or other hospitality business? American Holtzkraft produces the ultimate site furnishings in terms of quality, longevity, and customization potential.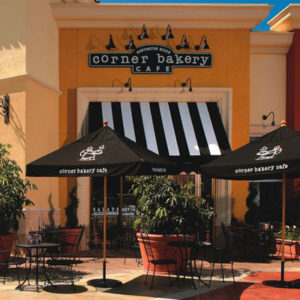 For nearly four decades, American Holtzkraft has developed processes, designs, and standards that promote the quality of both our products and customer service. As a result, clients worldwide trust us to deliver market umbrellas, cabanas, daybeds, and other site furnishings that are well worth every penny and more.
Six patents held by American Holtzkraft indicate our commitment to innovation, and we've also been honored with ADEX (Award for Design Excellence) recognition.
Our headquarters in Mount Pleasant Mills, PA, provides us with proximity to natural and human resources that amplify the quality of our products. For example, we use the area's Northern Ash hardwoods, the hardest hardwoods that grow in North America. In addition, we're grateful for access to the expertise and skill of the Pennsylvania Dutch population to perfect our hand-crafted products.
We offer custom designs for our clients and will provide exclusivity to ensure that your site furnishings become an essential part of your branding campaign. Made in the US, American Holtzkraft products are safe, durable, and convenient.
American Holtzkraft Umbrella Components and Characteristics
Market umbrellas have a few primary components: the canopy, pole, stand/base, and the hardware that holds it all together and makes it open and close.
American Holtzkraft offers two pole choices: wooden or aluminum. We primarily use Northern Ash hardwood but offer other options, including Plantation-Grown Teak and Western Cedar.
The canopy fabric and thread used for American Holtzkraft market umbrellas resist staining, weathering, fading, and UV rays, all potential hazards of regular sun and weather exposure. In addition, these textiles are available in multiple colors and patterns, and we can create a design just for your company with your preferred pleating, stitching patterns, and logo inclusion.
American Holtzkraft market umbrellas come in all sorts of sizes so that we can meet the needs of all of our clients. Choose among square, rectangle, decagon, and octagon "round" shapes according to the table setting or activity planned. Another concern our clients have is the shade movement during the day, which two extra feet on each side quickly remedy.
As always, the team at American Holtzkraft is readily available to provide input and guidance regarding the design of your chosen site furnishings.
Each component of our market umbrellas, and other site furnishings, is of the best possible quality. Sealed solid brass brackets, grommets, and screws; stainless steel hardware; and aluminum flush pole guards provide connection and protection for the long-term integrity of the product.
Safety comes first with American Holtzkraft. Windy conditions can make market umbrellas dangerous, so we do not produce cantilever market umbrella systems. However, we do produce the most wind-resilient market umbrella available. Wind-tunnel testing has shown our umbrella to withstand wind speeds of 74.5 mph before damage occurs.
The bases and stands of our market umbrellas are also designed for safety. All of the available options provide strong vertical support.
For wood market umbrellas that will perform appropriately for many seasons or for the refurbishment of products that have good bones but are beginning to look a bit worn, come to American Holtzkraft.