Wooden Hotel Market Umbrellas
Wooden hotel market umbrellas from American Holtzkraft offer an invitation to guests along with shade and protection from the elements. Our site furnishings set the stage for luxury and atmosphere through pieces that leverage artistry, innovation, and quality materials. We routinely sell to restaurants, water parks, theme parks, hotels, resorts, cruise ships, and other hospitality businesses.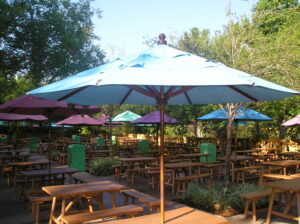 A wooden market umbrella design for hotels incorporates elegance and style into hotel pool patios, restaurants, and seaside spaces. In addition to aesthetic benefits, you'll gain functionality, versatility, and diversity when you choose American Holtzkraft.
We offer various models of wooden hotel market umbrellas, and you can custom-design our creations to suit your functional and aesthetic needs. We even provide exclusive rights of use to customers who want to be the only ones to use their custom designs.
The size, shape, color, and other canopy features are all customizable, making it easy for hotels to choose the ideal design for their specific branding, environment, and purposes. Provide your guests the ultimate luxury experience by incorporating American Holtzkraft market umbrellas, daybeds, cabanas, and other custom site furnishings.
The easy maneuverability of our wooden umbrellas is an essential factor, especially for use on beach fronts. Even in a marine environment, American Holtzkraft site furnishings are built to last season after season.
Hotel guests benefit from American Holtzkraft market umbrellas in the following ways:
Shade from the sun = cooler temps, less glare, reduced exposure to UV rays;
Shelter from precipitation = dry, comfortable outdoor enjoyment;
Design elegance and anchoring for outdoor spaces;
Highly functional and long-lasting = fewer replacements necessary;
Quickly installed, removed, and transferred = faster service for hotel guests and less employee effort.
Cement branding through design choices.
Suggestions for Ordering
When selecting American Holtzkraft market umbrellas, remember a few important tips:
Measure the size of the area where the market umbrella will rest and add two feet to account for the sun's movement through the day;
Plan for the style of the outdoor space and choose a complementary design;
Parallel the design to address the climate where the market umbrella will be used;
Address your budget with well-built American Holtzkraft market umbrellas that welcome refurbishment when the time comes. We have our refurbishment center where we can repair and return used site furnishings to like-new condition.
American Holtzkraft – The Right Choice
American Holtzkraft began in 1985 as the brainchild of innovation. We build remarkable market umbrellas, cabanas, daybeds, and other custom site furnishings. Each piece is made to customer specifications with the finest materials and expert-level craftsmanship.
At American Holtzkraft, safety comes first. Due to our patented rotating canopy and dual-vented canopy design, we produce the most wind-resilient market umbrella available. These two features significantly reduce the pressure on the umbrella to stay intact even under high windy conditions.
American Holtzkraft stands behind our products and services. We understand that we make mistakes and always try to make them right when we do. You can rely on our integrity and follow-through.
Florida customers can even schedule a visit from our experts for SAM services to evaluate a venue's Safety, Aesthetics, and Maintenance elements.
For the best wooden hotel market umbrellas, come to American Holtzkraft. Discover our products and services by browsing our online gallery, checking out the catalog, or contacting us at (570) 539-8945.