Wooden Outdoor Umbrellas
Wooden outdoor umbrellas from American Holtzkraft come in various custom options well suited for all weather conditions and purposes. In addition to market umbrellas, we provide cabanas, daybeds, site furnishings, and accessories for use at hotels, restaurants, theme and water parks, and other hospitality businesses.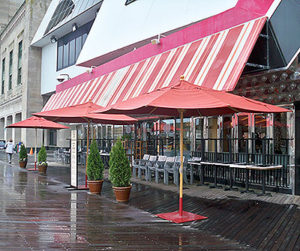 Operating out of Mount Pleasant Mills, PA, American Holtzkraft is a female-owned business founded on innovative design ideas. Since 1985 when we began, we have leveraged the natural and human resources of the area, namely the Northern Ash hardwoods and Pennsylvania Dutch craftsmen, to create the best site furnishings available for the hospitality industry.
Features to Expect from American Holtzkraft Wooden Umbrellas
Made from the finest materials.
Available in square, rectangle, decagon, and octagon (round) canopy shapes
Displays hardwood grains slow-preserved via kiln and sealed with multiple layers of finish on the pole
Pole finish options include teak, natural mahogany, Stonehenge gray, white wash, black enamel, and white enamel
Finish for outdoor use – flexible, durable, high gloss
Pole composed of solid Northern Ash, the hardest hardwood in North America
Pole laminated to protect from warping
Pole protected via aluminum flush pole guard to lessen swelling
Hub multi-laminated with Northern Ash and internally reinforced with stainless steel hardware
Multi-laminated finial protected from weather exposure
Brackets, grommets, and screws connecting fabric made from solid brass and sealed with clear lacquer
Screws installed flush to prevent ripping when umbrella is closed
Eye-screw and chain made of solid brass connecting the positioning pin
Self-locking acorn nuts of stainless steel for securement of rib joints
Optional Elements for American Holtzkraft Wood Umbrellas
Automatic opening devices
Rotating canopies
Double venting canopies
Stainless steel hardware trim
Fire retardant fabric treatments
Reinforced laminated pole with ⅜" galvanized steel pipe in the center
Wood toning, various finishes, and gloss protective build
Adjustable pole length and flush guards available in varying lengths
Multiple fabric options for custom color options, stitching, pleating, and logo placement on canopies
Lighting options available
Aluminum pole finished with powder coat to mimic wooden market umbrella aesthetics.
The vibrancy and strength of American Holtzkraft market umbrellas extend to aluminum market umbrellas, cabanas, daybeds, and custom site furnishings.
American Holtzkraft Refinishing Solutions
The comprehensive services that we provide include refinishing and repair. The quality with which our pieces are made means that refinishing them is sufficient for a second life without sacrificing quality, safety, or beauty.
We will makeover our own products and those of the competition, providing a valuable furnishing option for businesses in the hospitality sector.
The refinishing process includes:
Completely stripping wood of paint or stain
Application of top-tier paint or stain
Application of three coats of strong and lasting marine-grade clear sealant
Repair or replacement of wooden bench slats
Umbrella Repairs
Treat all market umbrellas as well as American Holtzkraft products
Part replacement (hub, ribs, finial, pole, pin and chain, and all other hardware)
Fabric repair or replacement
Upholstery Repair
New cushions upholstered
Old cushions repaired or reupholstered
All using marine-grade Sunbrella brand fabric
The diversity of wooden outdoor umbrellas available for purchase and custom order from American Holtzkraft is extensive and impressive. Explore how we can promote your brand and the comfort of your patrons by checking out our online catalog or call us at (570) 539-8945.