Wooden Patio Umbrellas
Wooden patio umbrellas from American Holtzkraft are superb in all aspects, including durability, wind resistance, aesthetics, and performance. For site furnishings worthy of your establishment, count on us.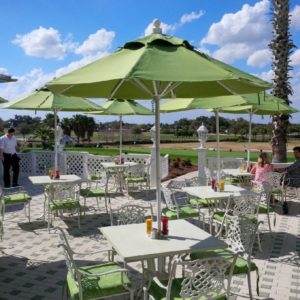 American Holtzkraft serves a range of hospitality endeavors, including high-end hotels, event spaces, restaurants, beach clubs, golf resorts, theme parks, water parks, and more! In addition, our footprint spans the globe as we provide market umbrellas, daybeds, cabanas, and custom site furnishings.
Custom Design of Your American Holtzkraft Market Umbrellas
When planning the exterior design of your venue, consider the square footage of the space you're working with and the size and number of individual areas to be shaded. Our experienced team will be happy to help create an effective umbrella design and layout.
The fact that shade changes positions during the day, as the sun moves in the sky, is of particular importance when determining the size of the market umbrella you need. A single market umbrella can cover the affected space with an extra two feet of canopy on all sides.
Our catalog includes many sizes; octagon (round), square, rectangle, or decagon shapes; a broad spectrum of colors and patterns; and a custom logo if desired. American Holtzkraft market umbrellas are ideal for use and branding, with a remarkably durable and innovative design and construction.
Choose American Holtzkraft
American Holtzkraft market umbrellas are the brainchild of innovation. Founded in 1985, we're a female-owned, small business with a worldwide presence and numerous patents. The headquarters of American Holtzkraft is found in Mount Pleasant Mills, PA, and we take advantage of the natural resources in the area: including timber and craftsmanship.
The Northern Ash hardwoods in our area are the hardest of the hardwoods grown in North America, and this wood is used in baseball bat construction in addition to our wooden umbrella components. However, we also offer other wood options, including Plantation-Grown Teak and Western Cedar.
The master craftsmen who create our hand-made market umbrellas hail from the Pennsylvania Dutch population, a group of craftsmen without comparison.
The priorities of American Holtzkraft continue to be safety above all, followed by personalization and customer satisfaction, and supported by thorough service after the sale.
Wooden poles created for American Holtzkraft market umbrellas are made of high-grade timber and slow-dried via kiln, followed by several layers of marine-grade protectant. The protective measures we use ensure that the poles do not become misshapen or destroyed due to time and use. In addition, of course, we provide various finish options, including the following shades:
Teak
Natural
Mahogany
Stonehenge Gray
Whitewash
Black Enamel
White Enamel
The custom styles we at American Holtzkraft offer allow our clients to outfit all of their exterior spaces appropriately. In addition, the umbrellas we provide are built to last and welcome refurbishment when the time does come. American Holtzkraft has a dedicated refurbishment center where we recraft our products and those of our competition.
Consider our market umbrellas' strong and durable nature, even in high winds. Wind-tunnel testing has shown our umbrellas to withstand winds as high as 74.5 mph before damage occurs.
Find the ultimate wooden patio umbrellas here at American Holtzkraft by browsing our online catalog or calling (570) 539-8945 to speak with our team.